Redhill centre one-way road scheme becomes two-way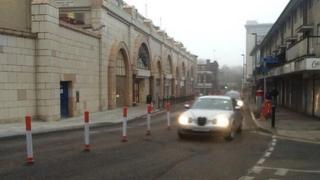 A £4m scheme that aims to cut traffic and help a Surrey town develop economically has been completed.
Several parts of the one-way system in the centre of Redhill were converted to a two-way scheme on Sunday.
Drivers can now travel both ways on London Road, Queensway and St Matthew's Road. Safety bollards have been put in place on the route until March.
Surrey County councillor John Furey said the aim was to speed up traffic flow through the town by about 15%.
"Redhill has been underdeveloped," he explained. "It has been suffering from congestion. A number of major roads come together here - the A23, the A25 - they all have effect.
"We've had £4m spent in here, a thousand extra jobs are expected to come forward.
"[We also have the] major redevelopment of the shopping centre and a new Sainsbury's. It's all good news."
The road changes have been funded by local councils, central government, and developers.