Thames Water fined over River Blackwater pollution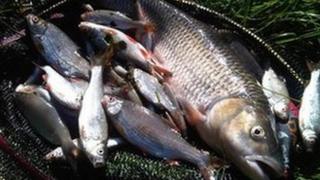 Thames Water has been fined £220,000 after more than 100 fish were killed when a river in Surrey was polluted.
A 2km (1.2 mile) stretch of the River Blackwater in Camberley was affected when liquid effluent was discharged into the river in September 2012.
Thames Water admitted contravening an environmental permit and failing to comply with, or contravening the requirements of, permit conditions.
It was ordered by Guildford Crown Court to pay £27,500 costs.
The charges were brought by the Environment Agency after it investigated "a number of permit breaches" at Camberley Sewage Treatment Works between 25 April 2012 and 20 April 2013.