Chessington boy, 4, makes missing dog plea in first letter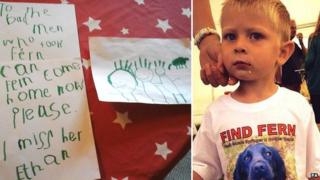 A four-year-old boy has written his first ever letter to plead for the return of his dog that disappeared from the family's home.
Ethan Ferrier asked the "bad men who took Fern", to "let her come home".
His mother Jodie said he was "devastated" by the disappearance of Fern - a black springer-cocker spaniel cross - two years ago, in Chessington.
The Met Police said it was not aware of any reports of the dog having been stolen in the area in 2013.
The family, who now live on the Isle of Wight, said Fern was a year old when she was last seen.
'Exceptionally friendly'
Ethan's letter, written in green ink, said: "To the bad men who took Fern. Can Fern come home now please. I miss her."
Mrs Ferrier has set up a Facebook and Twitter campaign to find Fern.
"[Ethan] sees me on the internet trying to push the campaign and asks me what I'm doing.
"I say 'I'm writing to people to try and find Fern' and then he said 'can I write a letter to the people who have got her?'."
She said Fern had disappeared from outside the family home, on a farm.
"She was my side of the gate on the driveway and then no more than a minute later, she had vanished," Mrs Ferrier said.
"She was young and exceptionally friendly. It's not uncommon for people to pull off the motorway and it would have been really easy for someone to call the dog, in the car and gone."