Competition fears over Surrey hospital merger bid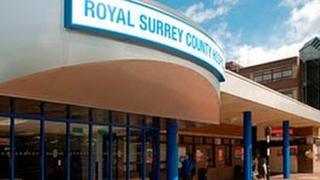 A proposed merger between two hospital trusts in Surrey is to be investigated by the Competition and Markets Authority (CMA).
Ashford and St Peter's Hospitals NHS (ASPH) and the Royal Surrey County Hospital NHS Foundation Trust (RSC) set out plans to merge last year.
But the CMA found the move could reduce quality for patients and said a fuller investigation was required.
In a joint statement, both hospital trusts said they were disappointed.
They said the assessment would take about six months to complete.
'Loss of choice'
Nick Moberly, RSC chief executive, said: "We're obviously disappointed with this decision as we believe a merger would result in a number of positive benefits for patients."
Suzanne Rankin, ASPH chief executive, said: "Although this was not the decision we were hoping for, we understand that the CMA needs to carry out a more in-depth analysis of our plans to ensure this is in the best interests of patients."
The CMA said incentives currently existed for both trusts to attract patient referrals from each other.
But it said the merger between ASPH, which has 570 beds at its sites in Ashford and Chertsey, and RSC which has 520 beds at its site in Guildford, could reduce quality in six inpatient and seven outpatient areas.
Health service regulator Monitor had found the merger could bring benefits with improved rotas in stroke, interventional radiology and gastroenterology, leading to improved emergency care and quicker discharge, the CMA added.
But Andrea Coscelli, executive director of markets and mergers, said: "Tens of thousands of patients a year are treated by the trusts in the specialties we've looked at and could be potentially affected by the loss of choice."
She said the CMA acknowledged there may be benefits, but given the concerns and the number of specialities and patients involved, it was necessary to look at the merger in greater depth.