Surrey County Council considers bus service cuts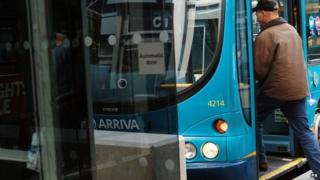 Consultation on the future of Surrey's buses has had nearly 7,000 responses - more than double the number in the last review five years ago.
Surrey County Council is considering cost-cutting plans for services.
The North West Surrey Bus Users Group has opposed all cuts.
Conservative councillor Mike Goodman said £2m savings were being considered, but Labour member Robert Evans said poorer and older people and those without cars would be hardest-hit.
'Vital journeys'
Possible savings identified by council officers last year included reviewing how the authority managed concessionary fares, renegotiating contracts, and removing or reducing local services on a prioritised basis.
The council said consultation results were being analysed to decide future proposals, which would be considered by the cabinet in May.
Mark Worley, from the bus users group, said: "Usership of buses isn't as high in Surrey as it is in many other counties because of high car ownership.
"But nevertheless there are still many people without cars, without access to cars, who need to make vital journeys to and from the shops and to and from work."
Out of 6,723 consultation responses, 87% of people had used buses in the previous 12 months.
Nearly half (47%) used a concessionary bus pass and 8% had a disabled pass.
Out of those who used a pass, nearly a third (28%) said they would not travel if their service was not free before 09:30 and after 23:00, but nearly a quarter (24%) said they would pay.