Horsell Common fire damages large area of heathland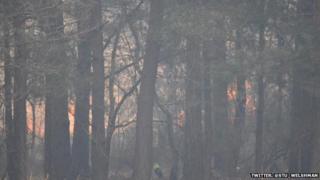 A fire, believed to have been started deliberately, has left a large part of a site of special scientific interest in Surrey covered in "blackened ash".
Firefighters called to Horsell Common, near Woking, on Saturday afternoon found about three hectares (eight acres) of heathland well alight.
Crews with specialist vehicles were sent from Camberley and Woking.
Paul Rimmer, estate manager for the Horsell Common Preservation Society, said heather and gorse were damaged.
"We're just fortunate that it's early in the year so the damage won't be too extensive," he said.
"It won't have set fire to the peat layer of the soil below, and will recover quite quickly."
Mr Rimmer added that the only wildlife in the area would have been invertebrates.
"It's a bit too early for nesting birds, such as the nightjar."
Firefighters said they were alerted to the blaze by a number of calls from members of the public at 13:44 GMT.
Mr Rimmer said he believed the fire may have actually started at about midday.
He said it took hold adjacent to a well-used path in the centre of the common.
"It's now a blackened ash-covered area that is quite upsetting in an area of outstanding natural beauty," he said.
A spokeswoman for Surrey Fire and Rescue said the cause of the fire was not known, but the incident had been passed to Surrey Police.