Trio 'saved life' of injured police biker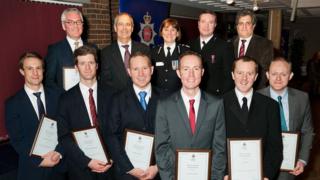 Three members of the public and a medical team have been commended for saving the life of a Surrey Police motorcyclist.
PC Andy Holmes was badly injured in an accident on duty, when he came off his bike at a roundabout near Heathrow Terminal 5, in May last year.
Marcel Bakker, Frank Thigpen and Michael Pellegrino, who were leaving the airport, stopped to help him.
PC Holmes had an open fracture to his right lower leg and a broken right arm.
The three men used a belt as a tourniquet to stem the bleeding, diverted traffic from the scene and called emergency services.
PC Holmes was taken to the Royal London Hospital by air ambulance but later lost his leg.
'Others drove past'
Surrey Chief Constable, Lynne Owens, said the men's help undoubtedly saved the life of PC Holmes, who has now undergone rehabilitation and returned to work in a desk job.
"I cannot thank Marcel, Frank and Michael enough for their help," said PC Holmes.
"When others drove past, they stopped and came to my assistance after I was knocked from my motorcycle.
"Without their medical help, stemming blood loss, I wouldn't be here today."
The three men received commendations for bravery at a ceremony at Guildford Cathedral on Thursday.
Commendations were also awarded to the medical team and the air ambulance crew.