Mole Valley council aims to boost 'considerate' cycling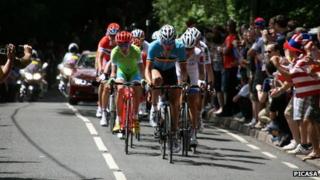 A council that has seen pressure on rural communities grow as cycle events increase has set out to encourage "responsible and considerate cycling".
Mole Valley council has held a consultation day at Leatherhead Leisure Centre to seek people's views.
The authority wants to encourage cycling while lessening the impact of events on communities.
Mole Valley hosted the Box Hill stretch of the London 2012 cycle road race, which led to an increase in cycling.
The council said it adopted a cycling plan last October and was now working to implement it.
Key points include improving the cycle paths network, promoting considerate behaviour of cyclists to other road and path users, educating children about safe cycling, enabling disabled people to cycle, and working to reduce the impact of the growing popularity of events on rural communities and businesses.
Councillor James Friend, executive member for wellbeing, said it showed the council's commitment to work with communities, event organisers and cyclists to ensure rural communities did not suffer at the expense of those who choose Mole Valley as a cycling destination - while promoting cycling as a way of getting around.