Magna Carta app guides Runnymede visitors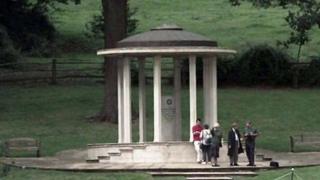 An app has been developed to help people explore the meadow in Surrey where Magna Carta was sealed nearly 800 years ago.
Students from Royal Holloway London University have designed the app which gives visitors the option of seven trails to follow in Runnymede.
Magna Carta outlined basic rights under the principle that nobody, including the King, was above the law.
Thousands of guests will join the Queen to mark its 800th anniversary in June.
The trails on the free app have been designed to suit different interests including history, geography, arts, politics and nature.
There is also a trail that can be used by children aged seven and above.
Dr Emm Johnstone, Magna Carta project manager at the university, said the app was needed because interpretation signs at the site would intrude on the landscape.
She said visitors could click on different areas of a map and listen to a guide about each of the places - such as the ancient yew tree and ruined priory at Ankerwycke.
According to the National Trust website, the yew tree is said to have witnessed the oathing and sealing of Magna Carta and is also said to be the location where Henry VIII met Anne Boleyn.
Dr Johnstone said computer scientists and physicists wrote the code for the app, and creative writing and geography students prepared the content.
The Magna Carta has long been an object of fascination in the US but its status has not been agreed upon by everyone.
Referring to the UK's increasing interest in Magna Carta, Dr Johnstone said: "I think we finally know what it is - after years of going 'what's that then' - and where all the Americans are interested in it and the Brits don't really understand what it's about.
"I think this year the message is finally coming through that this is a fundamental part of our history where the rule of law takes flight."
The Magna Carta memorial at Runnymede was erected by the American Bar Association in 1957.
---
What was Magna Carta?
Magna Carta outlined basic rights with the principle that no-one was above the law, including the king
It charted the right to a fair trial, and limits on taxation without representation
It inspired a number of other documents, including the US Constitution and the Universal Declaration of Human Rights
Only three clauses are still valid - the one guaranteeing the liberties of the English Church; the clause confirming the privileges of the City of London and other towns; and the clause that states that no free man shall be imprisoned without the lawful judgement of his equals
---