Runnymede eco-village reprieve until Magna Carta celebrations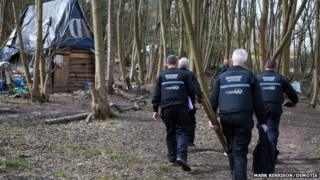 A group of squatters who have set up camp near the site of the sealing of Magna Carta may not be evicted until after the 800th anniversary events.
The Runnymede Eco-Village is two miles from where the Queen will attend celebrations in June.
Bailiffs posted notices at the site on 30 March ordering the squatters to leave or face court proceedings.
However, following a hearing the case has been adjourned until some point in June.
Guildford County Court does not yet have a date for the next hearing.
The site is owned by developers Orchid Runnymede and is next to the Magna Carta site owned by the National Trust.
Orchid Runnymede has said the squatters are illegally on the land, which is about to become a construction site for housing.