Warning over using stolen specialist cosmetic equipment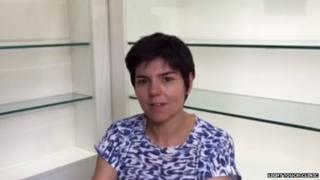 The owner of a cosmetic medicine clinic in Weybridge has warned of the dangers of using specialist equipment that was stolen over the weekend.
Items worth hundreds of thousands of pounds were taken from the Light Touch Clinic in Church Street between 21:00 BST on Sunday and 07:30 on Monday.
Dr Natalie Blakely, who founded the clinic, said: "I am completely gutted. All of our machinery is gone.
"The machinery is specialist stuff and in the wrong hands is dangerous."
She said she discovered the burglary when she arrived at the clinic on Monday morning.
"The whole of the retail space was cleared out. TVs were ripped off the walls," she added.
Appealing on Facebook, filmed in the empty clinic, Dr Blakely appealed for anyone who found the stolen equipment to come forward.
Det Con Heather Francis, from Surrey Police, said: "This is a significant loss for a local business - both in terms of the valuable equipment and stock which was stolen and the potential impact on further earnings."