Guildford council opens Armed Forces Day tickets ballot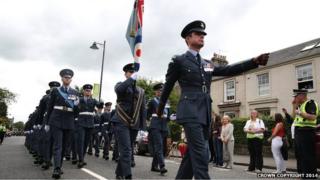 A public ballot has opened for tickets to a cathedral service on national Armed Forces Day.
Guildford is hosting the day which will also include a military parade and a "picnic and proms" in Stoke Park, on 27 June.
About 60,000 people are expected to attend the events in the Surrey town, Guildford Borough Council said.
Tickets to the cathedral service are free but places are limited. No tickets are needed to watch the parade.
The council said local people and thousands of visitors would join service personnel, cadets and veterans to thank everyone working in the Armed Forces.
The local authority's managing director, Sue Sturgeon, said the event - the biggest in the borough to date - would be an exciting and memorable day.
She said entering the ballot was the only way to get tickets for the "prestigious" service.
People who want to take part can enter their details on the Armed Forces Day website or phone the council to ask for a paper form to return by post. Applicants will have to pass security vetting checks.
The closing date is 10 May.