M25 Cobham Services to fully reopen this week after fire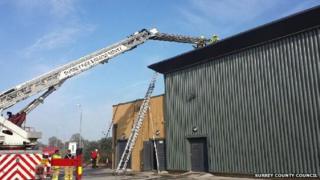 A service area on the M25 will not be fully reopened until later this week following a fire at a KFC restaurant.
The fire at Cobham Services in Surrey broke out on Friday morning, but the HGV parking area, filling station and forecourt reopened later that day.
The onsite hotel had to shut but will open to customers on Tuesday evening.
KFC said its restaurant was unlikely to reopen for several months, but the service station's other restaurants and shops will be trading again by Friday.
A spokesman said its outlet had suffered extensive damage as a result of the fire.
He added that investigations into the cause were ongoing but were currently focused around the building's electrical intake.