Surrey heathland fires: Suspected arson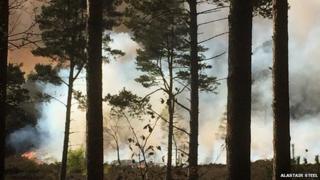 Arsonists may be to blame for recent woodland and heathland blazes in Surrey, a fire boss has said.
Bob Weldon Gamble said fire services were stretched dealing with fires near Old Frensham Road in Farnham and on heathland near Pirbright.
"It would be a bit of a fib if I said we hadn't been pushed a tad," the the group commander of Surrey Fire and Rescue Service said.
"My professional opinion is that some of this is arson."
"It does thin the cover but what we do make sure is we always respond," Mr Weldon Gamble told the BBC.
The Farnham fire, which started on Tuesday, came days after the fire at Pirbright, during which about 500 acres were affected at Stoney Castle Ranges.
On Wednesday, Surrey Fire and Rescue said the Farnham fire remained under control and there would be one fire engine at the scene overnight "keeping a watching brief".
The Pirbright fire started on 15 April but reignited over the weekend. Two fire engines and six specialist vehicles will continue tackling hotspots at the scene of the Pirbright blaze and crews are continuing to dampen down the area.
An RSPB spokesman said the site was about seven hectares of "Grade A" heathland and there was "great concern" for the wildlife.
Members of a reptile and amphibian charity have been working with firefighters to rescue wildlife.
"Fire crews have worked absolutely flat out," Mr Weldon Gamble said.
"It could be careless disposal of smoking material. There could be people out there who maybe think it's a little bit of a game."