Shepperton 'eco park' cost soars by £16m in 18 months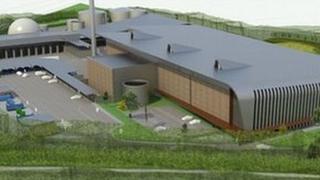 The cost of a controversial expansion of the household waste complex in Shepperton has risen by more than £16m in 18 months, it has been revealed.
Surrey County Council says the 22% jump is outside its control but insists the development - which includes an "eco park" - is still the best value.
It says the extra cost is due mainly to delays in securing statutory approvals for the work, in Charlton Lane.
More than 1,500 people signed a petition opposing the proposals.
The opponents, including Spelthorne Borough Council, are concerned about pollution and the impact of a large new plant in the countryside.
But the government backed the plans - which the county council says will provide a more sustainable and cost-effective way of treating waste in the north of the county - saying no review was needed.
'Better value'
A cost assessment commissioned by the county council in 2013 concluded there was little difference between amending the current 25-year contract with Sita to accommodate the proposed expansion and alternative ways of improving current waste and recycling arrangements.
But after taking into account likely income from grants, the "eco park" plan proved better value, the report concluded.
And an updated assessment, being considered by Surrey County Council's cabinet later, says that is still the best option.
The report says the initial cost of £74.6m has risen to £91.3m, due largely to "delays in the regulatory process".
SHEPPERTON WASTE PLANT EXPANSION
Initial cost - £74.6m
Revised cost - £91.3m
Includes eco park, diverting more waste from landfill
Uses new technology to turn household waste into gas that can be burnt for electricity
It says the impact of the extra cost on the council's resources will not be known until later this year.
Ian Beardsmore, a member of the Liberal Democrat opposition group on the council, said: "It's been a disaster from day one. It should never have been put there. They never listened to residents."
A county council spokesman said: "We've taken advice from independent financial and technical advisers and have concluded that our eco park proposals are still the best and most affordable way of dealing with Surrey's waste, despite a rise in costs due to delays beyond our control.
"[They] will bring a host of benefits, including enough green electricity to power more than 8,000 homes, a reduction in heavy goods vehicle traffic and more than 40 new permanent jobs for Surrey and 300 during construction."