Fanny's Farm Shop to close after owner dies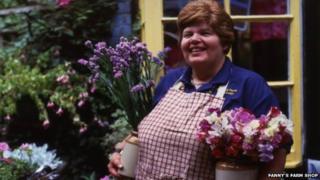 A Surrey farm shop used by generations of families is to close after its owner died earlier this summer.
The family of Fanny Maiklem said Fanny's Farm Shop in Merstham would close on 12 September and the business, property and land would be sold.
The premises in Markedge Lane opened in 1979 and developed into a tea room and wedding venue as well as the shop.
"The shop is not the shop without her. Fanny's Farm Shop was Fanny," said her daughter Nellie Budd.
"She always knew that when she died the place would be sold and she was untroubled by that.
"She was very ill for the last few years. She did think perhaps she should she sell up and go off and enjoy a little flat by the sea, but she chose to stay on a little longer and she got stolen from us a little earlier than we anticipated."
Mrs Budd said her mother was not the sole owner of eight-acre Lodge Farm and the decision to sell was made by the whole family.
She said many people had reacted with sadness to the closure announcement.
"We have fantastic memories and I am glad so many other people have lovely memories," said Mrs Budd.