Muslim Burial Ground Peace Garden in Woking opened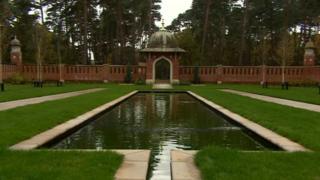 A memorial garden in honour of Muslims who fought for Britain has been formally opened by the Earl of Wessex.
The Muslim Burial Ground Peace Garden in Woking, Surrey, is on the site of a former Grade II-listed cemetery where 27 Indian soldiers were buried.
Their graves were moved to Brookwood Military Cemetery in 1968 after a spate of vandalism. The ground was then de-consecrated and it fell into disrepair.
Twenty-seven Himalayan Birch trees now symbolise the 27 servicemen who died.
The Islamic-style peace garden was created within the original walled structure, which is located on the south east corner of Horsell Common.
The burial ground was built in 1917, originally for Indian Army soldiers who were wounded on the battlefields in France and were treated for their injuries at the Indian Army Hospital set up in Brighton's Royal Pavilion.
Those buried there died in both world wars, and were laid to rest in accordance with Islamic tradition.
The site's original distinctive arches, minarets and the domed gateway reflect the architectural style of the nearby Shah Jahan Mosque, the first purpose-built mosque in the UK, completed in 1889.
Hundreds of volunteers, including local school children, were involved in the project to transform the neglected site.
Capt Naveed Muhammed, chair of the Armed Forces Muslim Association, said Muslim soldiers had been part of the British armed forces for more than 100 years and recognising that was immensely important.
"Having this memorial dedicated in the memory, not only of those individuals from the first and second world wars who were buried here, but having a focal point for the Muslim community to be able to perhaps learn more about the sacrifices that were made, I think is really important," he said.