Police officer knocked unconscious during arrest in Chichester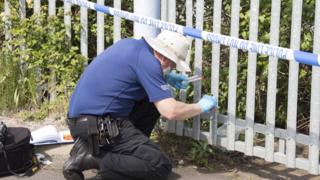 A police officer was beaten unconscious by a man who escaped despite being Tasered and pepper sprayed.
Police were called to reports of a fight in Whyke Road, Chichester, at 22:20 BST on Saturday.
One of the men ran away but was found in an industrial estate where he allegedly attacked the officer. Efforts to detain him failed.
A 37-year-old was eventually arrested at a house in Merston following a three-hour stand-off.
Sussex Police said the officer was knocked out and suffered a head injury in the attack.
He was taken to hospital but has since been released to recover at home.