Murder arrest over body near St George's Hill millionaires' row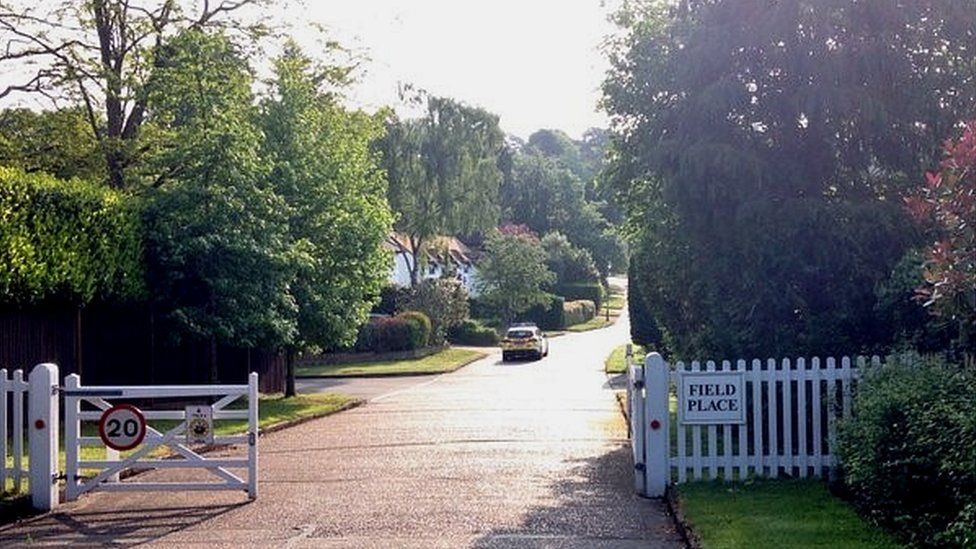 A 46-year-old man has been arrested on suspicion of murder after a woman was found dead at a house close to a private residential estate.
The victim, aged 38, has not been formally identified but her family has been informed, police said.
Officers were called to the property in Crossfield Place near Weybridge railway station, in the upmarket St George's Hill area, at 10:00 BST on Saturday.
They also found a man in his 30s with serious injuries.
He was taken to hospital for treatment.
Police went to the house after being alerted by an ambulance crew.
Det Ch Insp Jason Taylor said: "This is a tragic incident and we will do all we can to support the woman's family."
The house, on a private residential street around the corner from the St George's Hill private estate, was taped off with police cars outside, and with three other cars visible on the driveway beyond the police tape.
Residents saw several police vehicles and investigators at the scene and described their shock to BBC Surrey.
One man said: "We know someone was murdered, at least that's what we understand. Our immediate concern was - is there going to be more of this in our neighbourhood."
Another said: "This is leafy Surrey. Everybody here commutes to London on the train. The station is a 10-minute walk from these houses, so there are a lot of commuters here. [It's] upper middle class, very comfortable. No murders in our memory which goes [back] about 20 years."
St George's Hill is a private estate with a golf club and tennis club where six-bedroom homes on the estate are listed for about £14m.
A spokesman for the residents' association said the incident did not happen within the 964-acre gated community.
Related Internet Links
The BBC is not responsible for the content of external sites.