Eleven bailed after Epsom Derby Day fracas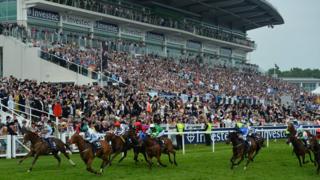 Eleven people arrested during a fracas at Epsom Downs Racecourse after Saturday's Derby have been bailed.
Police wearing riot gear arrested men aged between 18 and 36 from Sutton, Croydon, Caterham and Reigate, along with four teenagers from London and Epsom after a disturbance near the main music stage.
Bottles were thrown and two people were injured - one of them a police officer.
An 18-year-old man was treated for head and facial injuries at the scene.
Video footage on Twitter showed race-goers running for cover and officers have appealed for anyone else with footage to contact them.
The arrests were carried out in relation to offences of assault, affray and possession of drugs.
'Nasty incident'
Temporary Ch Supt Jerry Westerman said: "The Queen had been and gone. Everybody was enjoying the day, but we responded to a disturbance on the main music stage.
"We did on this occasion have to deploy officers in protective equipment, commonly known as riot gear, because we knew objects were being thrown around and one officer was injured," he said.
He added: "It was clearly a nasty incident and we don't like anybody getting injured, but it's still a very small minority of those that went to the Epsom Derby. The majority had a great day out."
The injured officer lost a tooth and needed stitches after receiving "nasty facial injuries" but had been discharged, he said.
Mr Westerman added: "Clearly the focus of this incident was around the main music stage. I think we'll be looking at that and seeing whether we can make changes and improvements for next year."
According to organisers, the incident happened on The Hill, an area of the racecourse which has music, a market and a funfair after the racing.
A spokeswoman for Epsom Downs Racecourse said: "The two-day Investec Derby Festival was a huge success with fantastic racing and excellent crowds. It is sad that a few people attending on The Hill tried to spoil it for fellow race-goers but our security personnel and police were quick to intervene and make appropriate arrests.
"We will of course continue to work with the police to aid their investigation."