Christopher Sears death: Call for school bus driver medical training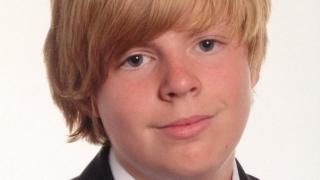 A mother whose teenage son died after having an epileptic seizure on a school bus is calling for life-support training to be mandatory for drivers.
Christopher Sears, 13, died after being taken ill on the way home from school in Guildford in November 2014.
The coroner at his inquest expressed concern at the lack of training for school bus drivers and called for new protocols for medical emergencies.
The Department for Transport said it was considering the coroner's comments.
'Failed to stop'
Christopher's mother, Christel Baumker, from Woking, said he normally had a seizure about every two years, with the previous one two or three months before he died.
"Christopher was fine at school that day - he was playing with his friends on the bus when he had a seizure," she said. "The bus driver was alerted by his friends but he failed to stop the bus."
The driver later went to check on Christopher and stopped. Ms Baumker was alerted by one of her son's friends.
"When I got there the bus driver still hadn't phoned the paramedics," she said. "My son was slumped forward - he wasn't put in the recovery position - and that's how I found him. Words can't describe what you feel when you see your child like that."
Ms Baumker said she did not blame the driver, who had received no training.
'Consider changes'
A petition she started calling for drivers of school buses to hold a basic life-support qualification and national protocols to assist drivers as to what to do in an emergency has received nearly 15,000 signatures.
Surrey County Council said it was still waiting to receive the coroner's report.
"Once we do, we will review this and consider what changes could be made going forward," it said.
The Department for Transport said the government had issued guidance to local authorities that included appropriate training to cover emergency procedures on school transport.
"We are carefully considering the coroner's recommendations and will respond in due course," it said in a statement.