Seven more arrests after Epsom Derby Day trouble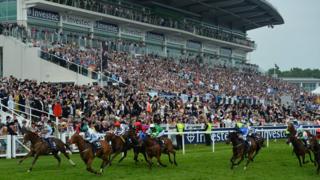 A further seven teenagers have been arrested after racegoers threw bottles and clashed with police at the Epsom Derby last month.
Officers in riot gear arrested 11 people aged 15 to 36 on 4 June - the second evening of the festival.
The further suspects, aged 15 to 19, were arrested and bailed in the last two weeks. Four were held on suspicion of violent disorder.
Two people were hurt when disturbances broke out near the main music stage.
An 18-year-old man was treated at the scene for cuts to his head and face.
And a police officer had a tooth knocked out and needed stitches after receiving "nasty facial injuries".
Video footage on Twitter showed festival-goers running for cover at The Hill, an area of the racecourse which has music, a market and a funfair after the racing.
The festival attracted around 100,000 people over the two days.