Surrey street lights switch off to save up to £240,000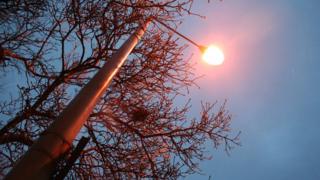 More than 30,000 street lights are to be switched off for five hours each night, under cost-saving proposals by Surrey County Council.
The conservative-run authority plans to cut power from midnight to 05:00 from October, and turn off a further 12,000 lights from December.
The council said the move would save up to £240,000 in the current financial year.
Liberal Democrats said street lights were needed "for safety and security".
'Uncomfortable in the dark'
Lib Dem councillor Stephen Cooksey told BBC Surrey that residents feel "uncomfortable in a very dark environment".
But council leader David Hodge said he had a "responsibility to manage our budget" as cost pressures and demand for social care rise.
Surrey Council Council said it was "exploring the possibility of switching off some of the street lights in quiet areas with low amounts of traffic in the early hours of the morning. All roads being considered will be risk-assessed."
Last year a report for the Local Government Association suggested reduced street lighting at night does not lead to an increase in crime or car crashes.