Legal challenge to Farnham redevelopment plans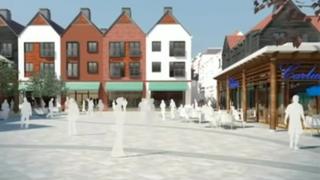 Campaigners against a £100m development of homes, shops, offices and leisure facilities are trying to raise £85,000 to launch a judicial review.
Waverley Borough Council approved plans for the major regeneration scheme in Farnham town centre eight years ago.
Developer Crest Nicholson has said the scheme will help to revitalise an under-utilised part of the area.
Opponents fear the proposals are too large and have changed too much from what was originally envisaged.
The Farnham Interest Group (FIG) has described the East Street scheme as "a massive and unsustainable development".
Spokeswoman Celia Sandars said the group was not opposed to redevelopment of the area, but believed the scheme was flawed.
"The main drawbacks are going to be the lack of plans to deal with the additional traffic," she said.
Ms Sandars said campaigners were also against the demolition of the Redgrave Theatre, which has been derelict since its closure in 1998.
The development, which has been in the pipeline since 1997, will see the creation of more than 200 homes, along with more than 800 new jobs.
The campaign group said "the only way to halt this development, and to make way for a better and workable scheme, is by judicial review".
It said an anonymous donor had come forward with a donation of £50,000, but a further £85,000 was still needed to find legal representation.
A spokesman for Crest Nicholson said it remained committed to the development, which would "deliver a quality mixed use urban regeneration scheme incorporating much needed homes and creating a vibrant addition to the economy of Farnham".
Waverley Borough Council said it had received a challenge to the scheme that was now with its lawyers.