Coldingley Prison: King Jahzeel Lewis not guilty of inmate murder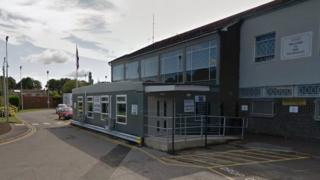 A prisoner accused of stabbing a fellow inmate in the heart in a row over a mobile phone has been cleared of murder.
Madala Washington, 25, from south-east London, died at HMP Coldingley at Bisley, in Surrey, last April.
King Jahzeel Lewis, 24, from Sutton, south London, denied murder and said he had only punched the victim.
Guildford Crown Court heard Mr Washington was stabbed with a homemade knife by a third party.
Jurors were told the two men had had an argument over the use of a mobile phone.