Counting begins as polls in Kent County Council elections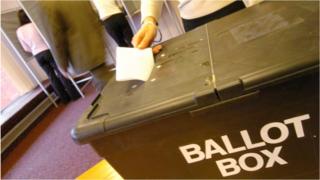 Counting has begun as polls for the local elections in Kent closed, with 81 seats on the county council up for grabs.
Polling stations opened at 07:00 BST and closed at 22:00.
In Kent, the number of county councillors has reduced from 84 to 81 following a boundary review in 2016. Members will be elected from 72 electoral divisions.
Counting is due to take place on Friday, with results expected throughout the day.
Across England, Wales and Scotland, voters will have their say on a total of 4,851 council seats.
There are also eight mayoral elections, including elections in six new "combined local authorities".