Fashion stakes high at Epsom Ladies' Day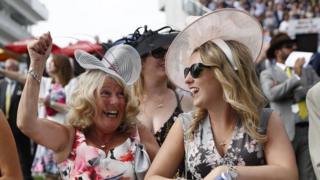 And they're off! It was feathers, frocks and fascinators at the ready as race-goers competed for the title of Best Dressed Lady at Epsom.
Organisers said the style stakes were high for Ladies' Day, which is held on the first day of the Epsom Derby festival every year.
A style prize worth £7,000 was up for grabs for those in the Queen's Stand and Duchess's Stand as well as a holiday, a year's supply of dresses and a bespoke hat.
Competitors were advised by Daniel Najar, director of fashion group Chi Chi London, to "remember to be creative and think sophistication - but most importantly dress to feel confident".
Friday's event included seven flat horse races and an official after-party.
Extra police, some armed, were at this year's event but in the racecourse area, the focus remained on the horses, the hair and the hats.
The racecourse said the "vibrant atmosphere, roaring laughter and thundering hooves" made Investec Derby Festival an unmistakeably British event.
The day was billed as an experience full of high-octane racing, music, glamour and fashion come "rain or shine" - and cagoules and umbrellas were needed later.
As horses gathered for the prestigious Oaks race, a crack of thunder sounded across the Downs - one of the highest points in Surrey and with views across London - followed by heavy rain.
But racegoers said the only disappointment was "the rain watered down the champagne".