Alexander Perepilichnyy inquest: Whistleblower 'looked unwell'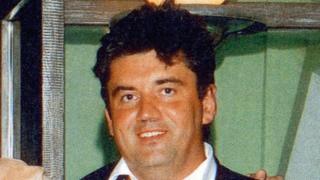 A Russian whistleblower who may have been poisoned had been seen looking "noticeably unwell" before he collapsed in the road, an inquest has heard.
Alexander Perepilichnyy, 44, was found near his home within a gated community in Weybridge, Surrey, in November 2012.
Traces of a plant-based poison were discovered in his stomach after he had eaten home-made soup.
A police officer also told how the businessman's wife was "hysterical" upon learning of his death.
'Very distressed'
PC Sarah French, who was called to the scene where Mr Perepilichnyy was lying in the road wearing shorts but no top, said: "His stomach was significantly bloated. I probably described it as bulbous."
Robert Wastell, counsel for the coroner, said: "It could have been how he always looked."
She replied: "Perhaps."
PC French told the inquest: "He was very distressed. He spoke very quickly. He was desperate to tell me what had happened.
"He did tell me he had sick in his mouth and he had been giving CPR."
PC French said she had also spoken to a man who reported seeing a jogger looking noticeably "unwell".
The PC described how she had spoken to Tatiana Perepilichnaya, Mr Perepilichnyy's wife, at the cordon.
"She was very upset, telling me that her husband had gone out running at 5pm and she was concerned because she did not know where he was and she was asking what happened."
'Name on hit list'
Mr Perepilichnyy, a commodity dealer and trader, had been helping specialist investment firm Hermitage Capital Management uncover a $230m (£150m) Russian money-laundering operation shortly before his death.
The inquest has heard the Russian had appeared to receive threats and his name was on a "hit list" in Moscow.
He had taken out £3.5m in insurance policies with three companies between May and July 2012 and had applied for a further £5m.
Liz Kaye, a client relationship officer at Swiss private bank EFG, who worked with wealthy clients including Mr Perepilichnyy, said the bank had given him a clean bill of health and she had understood his main business was in food production.
She said she had no idea Mr Perepilichnyy had a connection with Hermitage and he "always seemed to be totally open".
She told the inquest she never detected Mr Perepilichnyy was distressed or worried, or receiving threats, but in retrospect was struck by his interest in ensuring his wife was looked after.
"He wanted to have his wife protected if something happened to him," she said.
She also told the inquest Russian clients were considered high risk and she would also commission intelligence reports before taking on a new client.
"There was an enhanced due diligence - risk of money laundering, corruption - and therefore banks in the UK have to take additional precautions," she said.
Poison 'never considered'
Later, Det Sgt Mike Seear, from Surrey Police, said the death was initially deemed non-suspicious.
He said he came up with three hypotheses, that Mr Perepilichnyy was the victim of a hit-and-run, robbery or murder, or died of natural causes.
But he said when he asked scene of crime officers to go to the scene they refused and said they would only come if he confirmed it was a suspicious death.
Asked by Peter Skelton QC, for the coroner, if it was a "resources issue", the officer said he was not told the reason.
Mr Skelton asked the officer what he would have done if he had been made aware the deceased was a "serious whistleblower about a crime committed in Russia".
Det Sgt Seear said: "I would have stopped everything and suggested this is not what it seems to be."
Retired Det Ch Insp Adam Collwood told the hearing he found no evidence of third-party involvement when he examined the scene, but never considered it was a poisoning case.
Henrietta Hill QC, for Hermitage, said an open letter was available on the internet in which a Russian associate claimed Mr Perepilichnyy owed him money and was "hiding in London".
Mr Collwood said if he had known about this, it would have affected his judgement and added: "Based on the information I now have five years later I would make a very different decision, yes. It would have been a suspicious death."
The inquest continues.