Alexander Perepilichnyy inquest: Coroner 'under media pressure'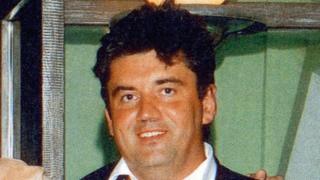 The family of a Russian whistleblower has accused "well funded forces" of manipulating the media to put pressure on the coroner.
Alexander Perepilichnyy, 44, collapsed and died while jogging near his home in Weybridge, Surrey, in November 2012.
An inquest at the Old Bailey is looking into whether he was poisoned.
The family said there was pressure on coroner Nicholas Hilliard to pursue a theory he was assassinated on the orders of the Kremlin.
Mr Perepilichnyy had been helping investment firm Hermitage Capital Management uncover a £150m Russian money-laundering operation.
Previous inquest evidence revealed he might have been poisoned.
'Hand over material'
On Monday news website Buzzfeed published an article claiming US intelligence had passed information on to British counterparts, suggesting Mr Perepilichnyy had been assassinated.
US intelligence sources have confirmed to the BBC that they believe the Russian businessman was murdered.
Henrietta Hill QC, for Hermitage, called for the coroner to ask US and British authorities to hand over the material.
She told the hearing: "It is said not only that the report was provided to British intelligence agencies, but that MI6 officers all agreed with this conclusion and were apparently silenced, it is reported.
"This is, on the face of it, highly pertinent information. Intelligence from several different officials within US intelligence. It is potentially highly significant evidence that has been referred to."
'Media manipulation'
John Beggs QC, representing Mr Perepilichnyy's widow, Tatiana Perepilichnaya, questioned who was behind the Buzzfeed story and why it had been published while the inquest was under way.
He said: "If you are going to make any request [for the material], and I can understand why you might consider you needed to do so, you might be interested in asking Buzzfeed when did they receive these stories, when were they placed with Buzzfeed and who placed them?
"We have our theories as to the timing. We observe Mr Browder's [chief executive of Hermitage] evidence got very little publicity no doubt due to the general election and shortly after an alternative route to publicity was secured by BuzzFeed."
He told the Old Bailey: "There may be well-funded forces out there deliberately manipulating the media.
"We have heard cogent rumours that is precisely what is going on and you are being placed under pressure by skilful media manipulation."
The coroner, Mr Hilliard replied: "I shall consider everything you have said."
The inquest continues.