Ipswich traveller site killings: Nelson Smith jailed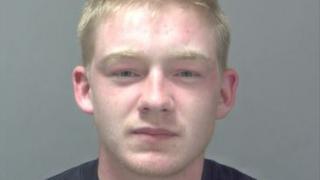 A teenager has been jailed for 17 years for stabbing two men to death with a carving knife at a travellers' site.
Nelson Smith, 18, was jailed for murdering Barry Street, 32, at West Meadows, Ipswich, Suffolk.
Smith, of West Meadows, will also serve 10 years concurrently for the manslaughter of Nathan Oakley, 18.
The stabbings took place during a row at the site. The victims died in hospital on 8 December 2016.
Violence broke out at West Meadows during a row over a caravan pitch.
The court heard Mr Street smashed a caravan window with a can of Red Bull, which prompted a violent confrontation between the partner of Smith's father and Mr Street's partner.
Smith, who was 17 at the time, denied the charges and claimed he was acting in self-defence and protecting members of his family.
A post-mortem examination revealed Mr Street had wounds to his back and neck.