Pollution decimates River Mole fish population in Surrey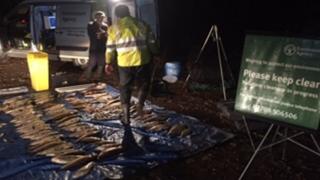 More than 750 fish have been found dead in the Gatwick Stream - a tributary of the River Mole.
A spike in ammonia levels was noted on Wednesday morning in a three-mile (4km) stretch of the river near Horley, the Environment Agency said.
Dave Webb, fisheries team leader at the agency, said the final number of fish killed could be more than 1,000.
He said someone could have accidentally put the chemical down the drain without realising the effect it would have.
"This is seen as being a very serious incident. It looks as if it's killed the majority of the fish population," Mr Webb added.
The Environment Agency said some very large "specimen" fish had been found dead in the river.
'Long time to grow'
Mr Webb said the population of fish could recover "in a matter of months".
Larger fish recovered include a 13lb (6kg) barbel and "numerous" chubs weighing more than 5lb (2kg).
"These are fish that will take a long time to grow to that weight," Mr Webb said.
"We will be looking at restocking, but these are not fish you can just purchase off the shelf. These are fish that develop over many years in the river itself."
The Environment Agency said it is investigating the pollution, and is asking anyone with any information to contact them.
"We are following several leads," Mr Webb said.