Guildford pub bombings: No new inquiry, attorney general says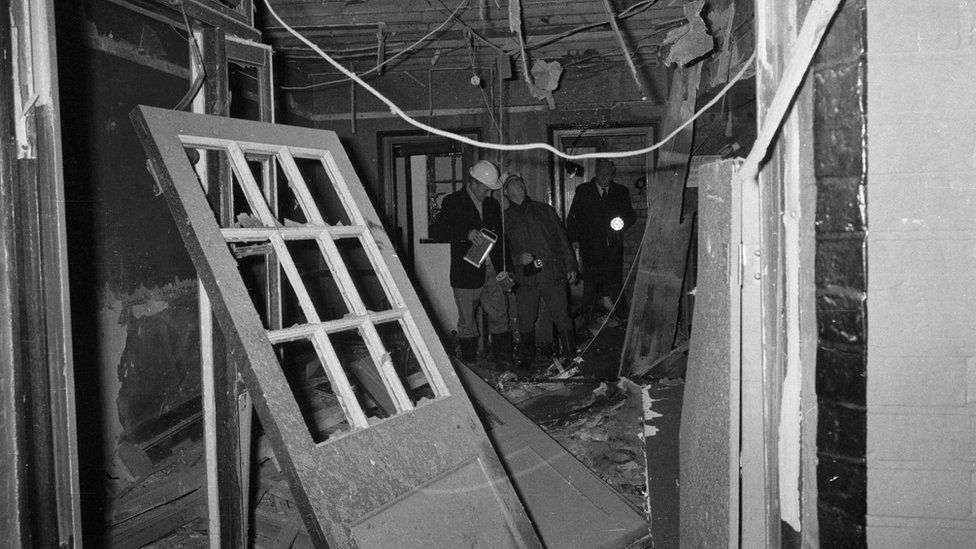 A legal bid for a fresh criminal inquiry into police actions over the 1974 Guildford pub bombings has been turned down by the attorney general.
Five died in the IRA blasts, for which the Guildford Four were wrongly jailed.
KRW Law, which has also applied for an inquest into the atrocity to be resumed, said it hoped any future proceedings would establish the truth.
Prosecuting the Guildford Four, who served 15 years in jail before they were released, meant that the original hearing was paused.
A controversial inquiry into what became one of the UK's worst miscarriages of justice, was held by Sir John May.
Lawyers submitted their request for a new inquiry last year amid claims newly released archive material exposed "criminality" by police and prosecutors.
But a spokeswoman for the attorney general's office said: "The attorney general does not have the power to direct any person or agency to carry out a criminal investigation.
"Therefore he cannot assist with the request."
KRW spokesman Christopher Stanley said: "The most effective mechanism to ensure an independent and effective human rights-compliant investigation into the Guildford pub bombings is an inquest - in the absence of a coronial inquiry being undertaken at the time because of the prosecution of the Guildford Four."
He said: "We hope relatives of the five victims will engage with the Surrey coroner and we await a preliminary hearing date when all possible interested parties can make submissions."
Mr Stanley said the law firm would be urging the coroner to resume the original inquest to establish the truth of what happened and to allay rumour and suspicion surrounding the attacks.
KRW Law made a submission to Mr Travers after the BBC obtained papers about the case.
The firm is representing an ex-soldier who survived the attacks and Ann McKernan, sister of Gerry Conlon, one of the Guildford Four, who died in 2014.
Related Internet Links
The BBC is not responsible for the content of external sites.