Body of man, 31, recovered from Surrey lake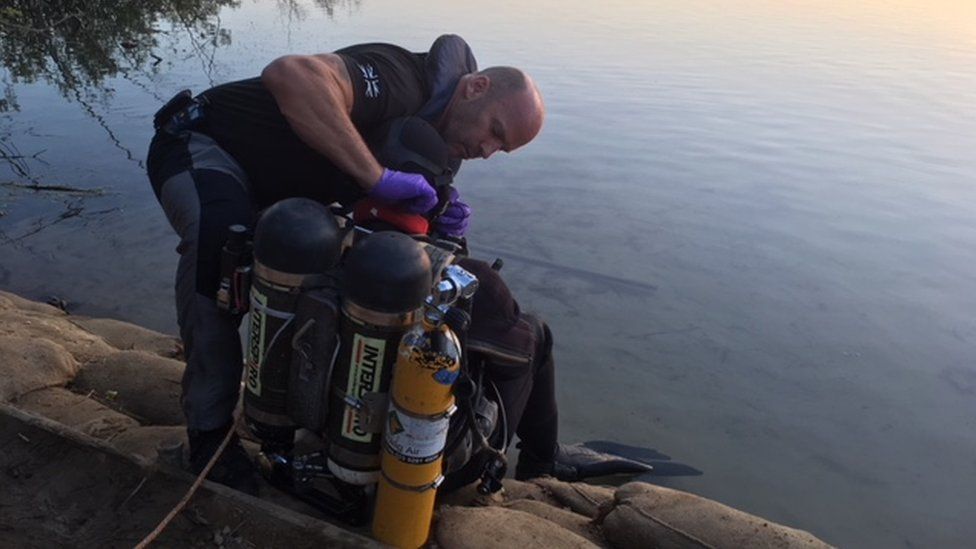 The body of a man has been recovered from a lake near Redhill in Surrey.
Police said the man, who was 31 and from Redhill, was seen struggling in Mercer's Lake at Nutfield Marsh Road, Nutfield, at 18:30 BST on Monday.
His body was recovered by a team of specialist divers following a search lasting nearly three hours.
Police said his death is being treated as unexplained, though not suspicious. Police do not believe a third party was involved.
The man's next of kin have been informed, although he has not yet been formally identified.
A post-mortem examination will be held in due course.
Earlier in the day officers said there had been reports of youths swimming in the lake and behaving in an anti-social manner.
Mercer's Lake is a disused old quarry pit filled with water.
Peter Faulding, chief executive of Specialist Group International, said divers recovered the man from the bottom of the lake.
"Mercer's Lake is very deep, very clear.
"Unfortunately it's very inviting in this sort of weather, but there's a lot of hidden hazards on the bottom, like scaffolding, bits of rope, and deep silt as well."
He warned people not to be tempted by rivers and lakes, as they were "highly dangerous".
"In 2016 we recovered eight bodies within five weeks.
You may also be interested in:
"This current hot weather is going to attract more and more [swimmers], and I fear it won't be the last incident we attend this week," Mr Faulding said.
"Don't swim in rivers and lakes - swim in the swimming pool, because you don't know what's on the bottom."
Related Internet Links
The BBC is not responsible for the content of external sites.