Surrey Police 'serious failings' led to man's death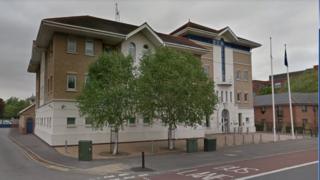 A man died a day after being restrained in custody due to serious failings and neglect by Surrey Police, an inquest has concluded.
Terry Smith died in hospital, a day after being held under the Mental Health Act and kept in restraints.
A Woking Coroner's Court jury found police failed to treat him as a medical emergency.
Surrey Police said treatment of those held under the act had "vastly changed" since the death in November 2013.
Mr Smith, 33, had taken amphetamines before his arrest, but Surrey Police failed to take this into account when he was restrained, the inquest found.
Surrey coroner Richard Travers said: "Prolonged and excessive restraint, and a failure to understand that the resistance to the restraint [by the deceased] was leading to an ongoing depletion of oxygen and an increased level of adrenaline and that this was speeding up the effects of the [amphetamines] in his body."
Spit hood
Police arrested Mr Smith in Stanwell, Surrey, at about 22:00 GMT on 12 November 2013 after a call for assistance from an ambulance crew.
The inquest jury heard he had been restrained on the ground by several officers using handcuffs, leg restraints and a spit hood.
He was taken to Staines police station where he was restrained by five or six officers, before being moved to a police van where he stopped breathing.
Mr Smith was then transferred to St Peter's hospital in Chertsey, where he died the following day.
The Crown Prosecution Service decided two sergeants and a Surrey Police health worker accused of gross negligence manslaughter and misconduct in public office had no case to answer.
Surrey Police Assistant Chief Constable Jeremy Burton said: "I recognise that certain things could have been done differently.
"Mr Smith's death was almost five years ago and I want to reassure people that we have seen vast changes since then, both in Surrey and nationally, in the way that people detained under the Mental Health Act are dealt with."