Debit card glitch: Woman charged twice for £18k Mercedes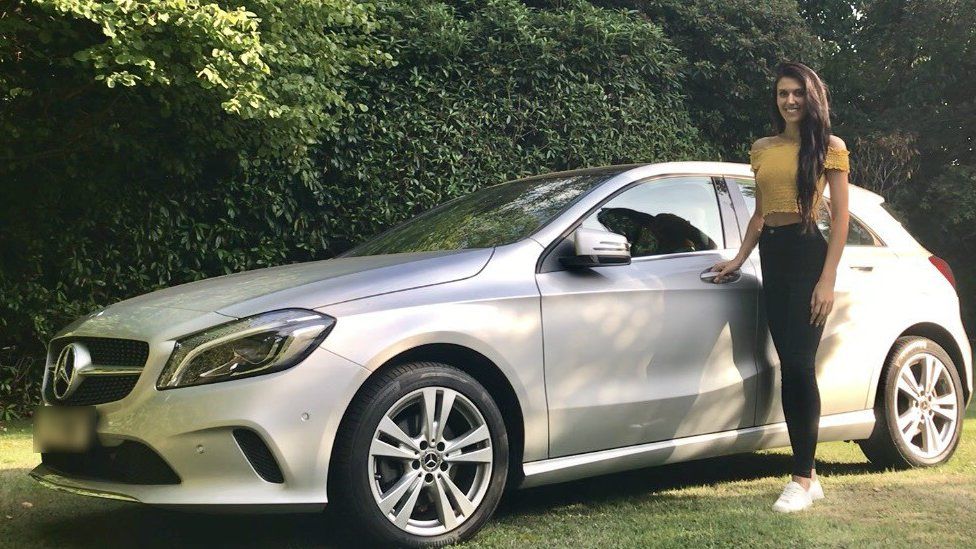 A woman paid £36,000 for an £18,000 Mercedes because of a glitch that saw thousands of people charged twice for debit card payments.
Francesca Brady and her mother bought the car on 29 August - the day the error occurred due to an issue with a card terminal run by Cardnet.
They were left thousands of pounds overdrawn over the weekend until Mercedes reimbursed them.
Lloyds Banking Group said all affected customers had been refunded.
Just under 5% of Cardnet machine transactions were affected on part of 29 August, it added.
Miss Brady, 25, said she only realised about the double-charge when her mother rang from America on 31 August - two days after they had bought the car.
"By the time I got all her messages and got in contact with Mercedes, the account team was closed for the weekend," she added.
"When I checked her account and noticed it had been charged twice, I completely freaked out.
"My initial reaction was horror and then when I found out there was nothing Mercedes could do until the Monday - I felt lost."
Ms Brady, who lives in Camberley, Surrey, bought the used and approved A Class from the dealership in Weybridge.
She said the double-charging left the account overdrawn by £16,000 - meaning it received extra charges.
"Mercedes were very helpful in the end, they sent me an email on Monday saying not to worry and the money was back in the account.
"They said they were more than willing to pay us for the extra charges we incurred as well.
"I think we were the only people to spend that much on that day, it was bad luck."
Cardnet - a joint venture between Lloyds Bank and First Data - handles more than 1.2 billion transactions every year, according to its website.
A Lloyds Banking Group spokesperson said: "All customers have now been automatically refunded, however customers can check their statements and get in touch with their banks if required."
Related Internet Links
The BBC is not responsible for the content of external sites.