Surrey County Council accountants issue finance warning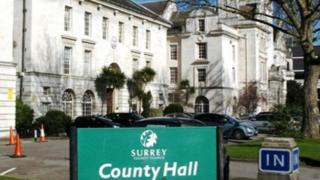 A council will not have sufficient reserves to meet its funding gap in 2019-20 unless it acts now, accountants have warned in a report.
Conservative-run Surrey County Council was accused last year of agreeing an alleged "sweetheart" funding deal with government after it planned a 15% council tax hike.
The new report says this year's £36m funding gap could rise to £94m by 2021.
Council leader David Hodge said Surrey was "taking all the right steps".
Finance warnings have been issued at other councils across the country, with East Sussex planning to strip services to the "legal minimum" and Northamptonshire warning of "radical" service cuts.
Cash-strapped Somerset last week agreed major cuts to balance its books.
In a report commissioned by the council, the Chartered Institute of Public Finance and Accountancy (CIPFA) said Surrey's gross expenditure was expected to increase by 6.5% over four years, but funding would rise by "only 2.4%" over the same period.
It warned this would lead to a funding gap of £36m in 2018-19, rising to £86m by March 2020 and to £94m by March 2021.
The report, which says the council urgently needs to build financial resilience, will go before cabinet members next Tuesday, according to the Local Democracy Reporting Service.
It says action is needed at the authority because "as things stand, [it] will not have sufficient reserves to meet its expected budget gap in 2019-20".
Mr Hodge said: "While we have achieved a balanced budget or small underspend in the past eight years we actively wanted our financial situation to be independently challenged.
"We know there is much more to do to make our finances sustainable and able to withstand the huge pressures in adult and children's services that we'll continue to face into the future."
Action already taken by the council has included appointing new executive directors and developing plans to manage extra demand and reduce costs, he added.
Last year, Labour leader Jeremy Corbyn claimed government ministers had agrred a "sweetheart deal" with Surrey.
He accused Mr Hodge of negotiating with the government to call off a referendum over the planned 15% tax rise.
Downing Street said all conversations between the government and Surrey had been "entirely appropriate".
The council later restricted last year's increase to 4.99%, so a referendum was not needed.