Ram-raiders strike at Staines-upon-Thames supermarket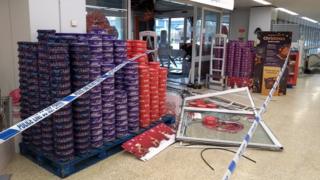 Thieves used a truck to smash the front of a supermarket, then attempted to rip out a safe.
Police said the raiders reversed the vehicle through the entrance doors at Sainsbury's in Staines just after 01:30 GMT, causing "significant damage".
They then attempted to tie a rope attached to the truck around the safe but eventually left empty-handed.
Officers said staff working in the store at the time were shaken but unhurt.
Surrey Police said a burnt out truck was found nearby a short time later. It is believed another vehicle may also have been involved in the raid.
Detectives appealed to anyone who was in The Causeway between 01:30 and 02:00 GMT to come forward.