Surrey County Council axes 31 children's centres but recycling centres reprieved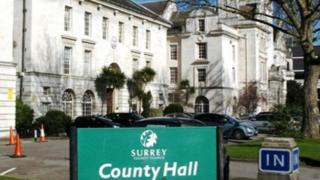 Controversial plans to close 31 children's centres in Surrey have been confirmed by the county council's cabinet as it bids to make ends meet.
The council has to find more than £200m of savings by 2021, some of which it attributes to government funding cuts.
Its cabinet voted to endorse the closures and reduce some bus travel concessions, but it has reprieved four threatened recycling centres.
The full council will be asked next month to raise council tax by 2.99%.
The decisions - which councillors acknowledged would not be popular - followed a series of public consultations.
Council leader Tim Oliver said the council had heeded some of the concerns.
And he revealed at the meeting the council was now withdrawing the closure proposals for four recycling centres, pending analysis of the government's recently published waste strategy.
He said the council needed to save £82m in 2019-20 alone and it was "near to achieving a balanced budget", without the need to raid reserves.
"And that is our intention for next year, too," he added
Mr Oliver said the closure of 31 children's centres in favour of 21 larger, family centres, together with nine satellite sites, would enable the council to provide targeted help for the most vulnerable and their parents.
"It's about the service, not the buildings," he said.
Analysis - Jack Fiehn, political reporter, BBC News
Not for the first time, the message from Surrey County Council is about the financial pressures and the difficulties in balancing the budget.
But the scale of the cuts this time around is striking.
There have contentious changes in the past, including charges at rural car parks and switching off street lights overnight, but nothing as significant as closing 31 children's centres.
And although the council has put its plan to close 4 community recycling centres on hold, there will still be restrictions on the types of waste that can be taken to them.
With more consultations being planned for libraries and special educational needs over the next year, the reality is that services across Surrey will be very different in the future.
The county's four least-used recycling centres - at Bagshot, Cranleigh, Dorking, and Warlingham - have now been given a six-month stay of execution as the council tries to find the required savings in other ways.
The authority will press ahead with restrictions on the times that free bus travel is available to disabled people, although passes for companions - initially to be axed - will now remain.