Turkish driver charged after 17 migrants found in M25 lorry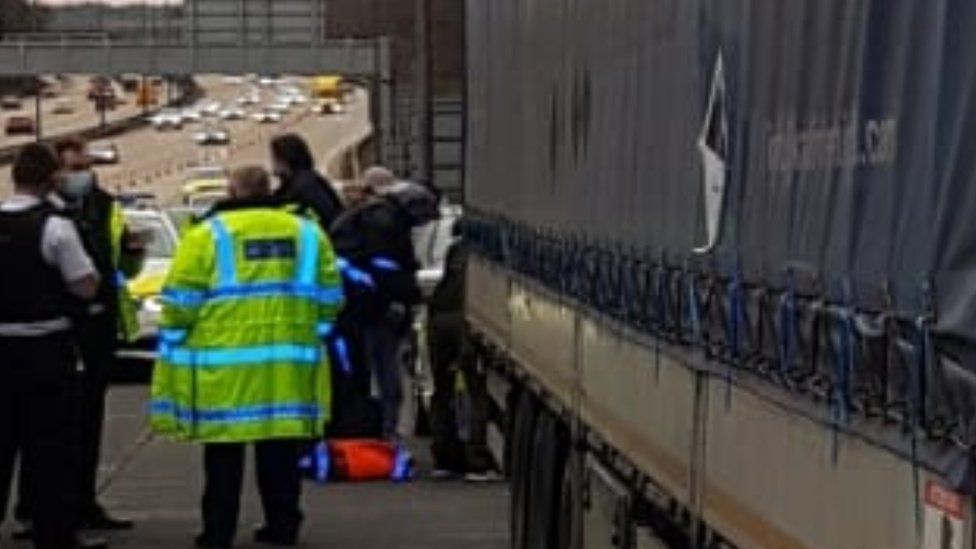 A lorry driver has been charged with trying to smuggle people out of the UK after a lorry with 17 migrants on board was found.
They were discovered in the trailer on the M25 and A3 junction in Surrey at about 15:30 GMT on Sunday.
Turkish national Hakan Zengin, 36, has been charged with assisting illegal immigration and is due to appear at Kingston Crown Court on 20 April.
The 17 people were all arrested on suspicion of immigration offences.
The National Crime Agency (NCA) initially said 16 people, including Moroccan, Algerian and Pakistani nationals, had been found in the lorry but it revised the number discovered to 17.
They were found hidden in the lorry's trailer sitting on pallets, a NCA spokesman said.
Under the plans, people who enter the UK illegally to claim asylum will no longer have the same entitlements as those who arrive legally.
Related Internet Links
The BBC is not responsible for the content of external sites.