Police jobs cuts 'a harsh reality' in Sussex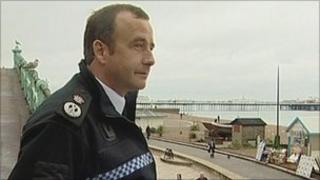 Sussex Police has said it is inevitable there will be fewer officers working for the force in four years' time and that job losses are "a harsh reality".
Staff across the force received an e-mail on Thursday from Chief Constable Martin Richards saying that Sussex must make savings of £50m by 2015.
It follows discussion of proposed police budget cuts in the House of Commons on Wednesday.
Mr Richards said public service remained the force's priority.
"Of course our officers and staff will be worried about job losses," he said.
"It is a harsh reality that, alongside other changes, by 2015 we will almost inevitably have fewer people.
"There simply will not be a way that we can find the level of savings required without this."
Sussex Police said last December it proposed to lose 73 officers and 26 staff posts to make savings in the 2010/11 financial year.
It said the force had made "efficiency gains" worth £30m over the past three years but that "cashable savings of at least £35m" would be required by 2015.
Mr Richards said on Thursday he would not know the final level of savings required until after the government's spending review was completed in October.
"But we already expect to have to make savings of at least £50m over the next four years," he said.
"We are keenly aware of the significant financial challenges the public sector is now facing, and that the police will not be exempt from this.
"We have been working for some time now on our force's plans to meet this challenge.
"Public service is our priority.
"We will maintain a locally-based approach to policing, and make decisions on savings on the basis of the impact they will have on our service to the public and on our staff, alongside considering how much money we can save."