Sussex vicar denies marriage 'pressure'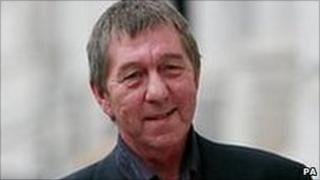 A Sussex vicar accused of conducting hundreds of sham marriages to help illegal immigrants gain UK residency has denied being manipulated.
Reverend Alex Brown, 61, told Lewes Crown Court he only officiated weddings on behalf of the couples after checks on their eligibility.
Mr Brown and two others deny conspiring to facilitate illegal immigration.
It is alleged they arranged for eastern Europeans to be paid to marry Africans so they could stay in the UK.
The court was told Mr Brown conducted hundreds of sham marriages at the Church of St Peter and St Paul in St Leonards between July 2005 and July 2009.
Co-defendant Michael Adelasoye, 50, is alleged to have used his specialist knowledge of the law to help illegal immigrants with applications to the Home Office.
'Fed him names'
Mr Brown said he told the Archdeacon of Hastings and Lewes, the Venerable Philip Jones, he had not been manipulated into conducting the marriages when he approached him about the high numbers of marriages of foreign nationals at the church.
He added: "During the conversation he asked me if anyone was guiding or controlling me in what I'm doing.
"He said: 'Is there anyone in your local community who has influence over you?' and I said: 'No, not at all'."
Mr Brown told jurors he then gave the archdeacon the names of two people, including Mr Adelasoye, who he said were "influential" in the local community.
He added: "I fed those names to him inadvertently really.
"I think the archdeacon picked that up and said: 'This is what's happening' and there are letters from the archdeacon where those names have gone in."
'Not always stringent'
The court was told a sham marriage went ahead in June 2009 after the groom presented Mr Brown with a falsified utility bill and photocopied passport.
Mr Brown said despite Church of England advice to always check applicants' passports carefully he admitted he was not always stringent.
He added: "I got out of the habit of that, I just looked at the passports and wrote the numbers down.
"It wasn't deliberate. It was just a forgetful thing."
Mr Brown told the court the age differences between the bride and groom did cause him to have suspicions about "one or two, maybe three" weddings.
He admitted marrying someone without a common licence or the Banns being read because he had been threatened and said he regretted it.
Mr Brown was asked whether he became suspicious about people who cancelled a wedding and then registered to marry someone else a few weeks later.
'Different partners'
He said: "It was difficult to comprehend but you must remember they are migrant workers and some partners go elsewhere to work and some are in the town.
"Sometimes they meet someone different and their partner is away. I can't go much further than that."
Mr Adelasoye told Lewes Crown Court on Thursday he had done nothing wrong and his actions had fallen within the law.
A third defendant, Vladymyr Buchak, 33, has also pleaded not guilty to the charge of conspiring to facilitate illegal immigration.
The trial continues.