E-fit of Wadhurst sex attack suspects issued by police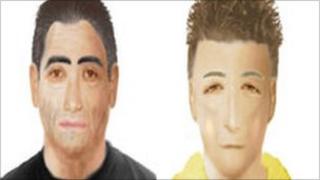 An e-fit of two men suspected of involvement in a serious sexual assault on a man have been released by police.
The middle-aged man was attacked in The Marlpit in Wadhurst, East Sussex, at 1645 BST on Friday.
Sussex Police said the victim was stopped by a motorist asking for directions before the male passenger got out asking for a light.
The victim was then attacked and threatened with a knife
Police said the men were travelling in a small, dark blue two-door hatchback.
The attacker, who was white and aged between 18 and 25, was closely shaven.
He had grubby hands and was wearing a yellow hoodie and grey tracksuit bottoms.
The driver is described as white, aged 40 to 50, with black swept-back hair and a chubby round face.