New Bexhill business centre opened by motorsport legend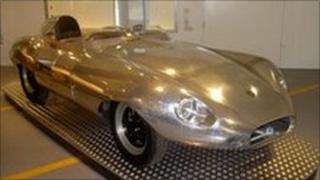 A £3.5m business centre, which is it hoped will create more than 100 new jobs in East Sussex, has been opened by former F1 world champion John Surtees.
The Elva Business Centre in Bexhill has been built on the site of the partially derelict former goods yard.
Rother District Council estimates the office and workshop units will help create up to 120 new jobs.
Local children named the centre after the Elva sports car, which was built in Bexhill during the 1950s.
'Town's racing history'
Two units at the site have also been given titles to reflect the fact that the first British car races were held in the town in 1902.
Rother District Council leader Councillor Carl Maynard said: "We are thrilled Mr Surtees has agreed to come and officially open the Elva Business Centre.
"He is a true giant of motorsport and it is fitting that he should cut the ribbon on a project named in honour of the town's racing history.
"As a successful businessman himself, I'm sure Mr Surtees will also appreciate the facilities the Elva Business Centre will provide for entrepreneurs in Rother and the wider area."
Born in Tatsfield, Surrey in 1934, Surtees is the only man ever to have been world champion on two wheels as well as four.
The former racing champion and businessman won the 1964 Formula One World Championship with Ferrari.