Peter Tatchell gets honorary doctorate in Brighton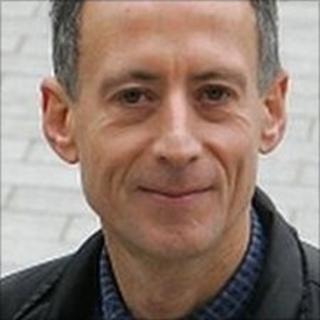 Gay rights campaigner Peter Tatchell has received an honorary doctorate from the University of Sussex.
Students nominated him for the honour in recognition of his services to human rights over a period of 43 years.
He received the award from University of Sussex chancellor, Sanjeev Bhaskar, during the graduation ceremony at Brighton Dome.
Mr Tatchell said he was honoured the students had sought to recognise his human rights work.
He added: "I was hesitant about accepting this honour. After all, my contribution to human rights is very modest.
"I am a long way from being a brave and effective campaigner. Many others are much more deserving than me.
"My decision to accept was partly because the initiative for this honorary doctorate was a grassroots one, from the staff and students."
Mr Tatchell, who began campaigning in Australia in 1967, said he accepted the honour in solidarity with other activists in countries such as Uganda, Russia, Saudi Arabia, Zimbabwe and Palestine.
He added: "The message I will deliver in my acceptance speech is this - be sceptical, question authority, be a rebel.
"All human progress is the result of far-sighted people challenging orthodoxy, tradition and vested interests."