Beatles piano in Bonhams auction at Sussex festival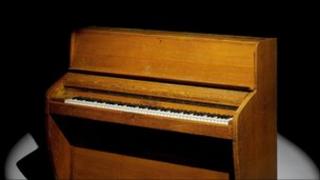 A coffee-stained piano that The Beatles used during the recording of albums at London's Abbey Road music studios is to go under the hammer in West Sussex.
The Challen upright piano is expected to fetch up to £150,000 at the Goodwood Vintage Festival in Chichester.
Auction house Bonhams said the instrument was used on several Beatles' songs, including Tomorrow Never Knows and Paperback Writer.
The piano is one of several items up for sale with links to big 60s bands.
Bonhams said the instrument was also believed to have been used on Pink Floyd's albums Wish You Were Here and Dark Side of the Moon.
Pearl necklace
Stephen Maycock, the consultant specialist for Beatles memorabilia at Bonhams, said he thought it was the first instrument from Abbey Road to be sold on the open market.
He said: "The piano has had quite a few knocks. It's had coffee cups placed on it and it's got cigarette burns.
"It's a working instrument that was used pretty much every day of its working life, and it's got the scars to prove it.
"But it still plays well and sounds great."
Bonhams said the piano was believed to have been bought in 1964 for £250 and installed in Abbey Road's Studio Three.
The instrument was used by several other artists until the 1980s when it was retired from service.
Also going under the hammer is a jacket worn by the late Rolling Stones' guitarist Brian Jones, which is estimated to fetch £15,000.
A pearl necklace owned by Jacqueline Kennedy Onassis and a 1965 VW camper van painted with The Who's iconic logo are both valued at £35,000.
The Goodwood Festival, which takes place from 13 to 15 August, celebrates vintage music, fashion, art and film.