Woolbeding Gardens in Sussex to open for first time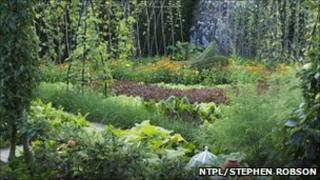 A 20th Century garden in West Sussex sympathetically created within an 18th Century landscape is to be opened to the public.
Woolbeding Gardens, near Midhurst, were created by the late Sir Simon Sainsbury and his life partner Stewart Grimshaw.
The National Trust has described it as a "truly spectacular and most unusual garden", whose features include a Chinese bridge, a lake and waterfalls.
It will open to pre-booked groups next month and everyone else from April.
The gardens are part of the Woolbeding estate, which is owned by the National Trust.
The estate was donated to the trust in the 1950s by the Lascelles family, who lived there until the 1970s.
Woolbeding House then became the home of Sir Simon, of the supermarket family, which he rented from the trust until his death at the age of 76, in October 2006.