Bognor Regis' sunflower record attempt on track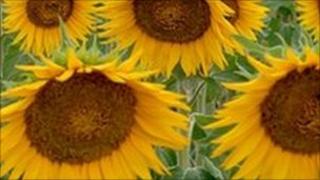 More than 55,000 sunflowers are growing across a Sussex seaside town, after it launched a scheme to have more of the plants than any other town in Britain.
Arun District Council started the bid in April to have more sunflower blooms than hours of sunshine - with a target of about 3,000 - in Bognor Regis.
Free seeds were given to residents and schools, and planted in parks.
As the plants bloom over the coming weeks, residents are being asked to email their pictures to the council.
'Green fingers'
Richard McMann, of the council's regeneration task force, who came up with the scheme, said: "We regularly hold the trophy for being the sunniest place in Britain. This year we are going to be the sunfloweriest as well.
"We've done some searching and haven't come across another town or city which has attempted such a feat.
"The beauty about sunflowers is that they are so easy to grow. You don't have to be a gardener and you don't even have to have a garden as they can be grown in pots on balconies.
"It's something we can all do no matter how green our fingers. Above all, sunflowers make you smile," he said.