Inquiry after Hove Crown Court judge's summing up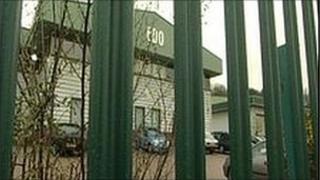 Complaints that a judge made anti-Israel comments while summing up in the Hove Crown Court trial of seven anti-war activists are being investigated.
It follows a number of complaints to the Office for Judicial Complaints about Judge George Bathurst-Norman.
In the trial, seven activists who claimed to be preventing Israeli war crimes were cleared of plotting to damage a Brighton weapons factory.
Jewish groups objected to comments comparing Israel with the Nazi regime.
A transcript of Judge Bathurst-Norman's summing up to the jury was published on the internet by Jonathan Hoffman, co-vice chairman of the Zionist Federation.
'Scenes of devastation'
The transcript said: "I am going to start with the background relating to Israel and Palestine and to the evidence which points to the war crimes being committed by Israel in Gaza, an area over which Israel has imposed a blockade.
"The evidence shows that those war crimes are committed against the civilian population of Gaza and against the property of its residents, including the United Nations by the Israeli Forces.
"Now you have to look at the evidence coldly and dispassionately.
"It may be as you went through what I can only describe as horrific scenes, scenes of devastation to civilian population, scenes which one would rather have hoped to have disappeared with the Nazi regimes of the last war, you may have felt anger and been absolutely appalled by them, but you must put that emotion aside."
President of the Board of Deputies of British Jews Vivian Wineman said: "We found the comments pretty offensive, one-sided and very, very unbalanced, but that's not the reason why we complained.
"The reason for the complaint is that they were completely irrelevant to what was before him."
He added: "He was anti-Israel to an extent which I found offensive. I think attempts to compare Israel to the Nazis are totally ludicrous, and that's an offensive thing to Israel which is a democratic country."
Factory break-in
A spokesman for the Office for Judicial Complaints said: "The Office for Judicial Complaints has received a number of complaints in relation to His Honour Bathurst-Norman's summing up in a case at Hove Crown Court on 28 and 29 June.
"Those complaints will be considered under the Judicial Discipline Regulations in the usual way. It would not be appropriate to comment further at this stage."
During the three-week trial at Hove Crown Court, the Smash EDO activists said they were acting with "lawful excuse" during a break-in at the EDO MBM factory in Brighton in 2009.
The defendants, from Brighton, Bristol and Islington, north London, admitted breaking into EDO MBM and sabotaged equipment worth about £200,000, causing extensive damage to the building, computer equipment and precision machinery.
But they said they were acting to prevent further alleged war crimes being committed by Israel against Gaza.
EDO MBM is an approved supplier to the Ministry of Defence and governments worldwide.