Crackdown on car boot sale fakes in East Sussex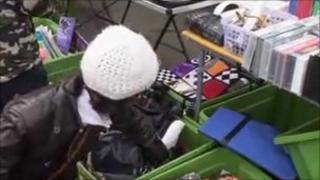 A bid to drive fake goods out of car boot sales across East Sussex is under way.
Organisers of 10 car boot sales have signed a charter pledging action, and will display A-boards with an anti-fake message aimed at buyers and sellers.
The initiative began when organisers of sales in Hailsham and Hastings signed a charter and now eight more have joined.
Sussex Police said they would still be carrying out regular patrols at car boot sales.
Councillor Bob Tidy, from East Sussex County Council, said: "Fakes cause great harm not just to the brand owners but to legitimate traders that face unfair competition from cheap fake brands.
"Fake products are also sometimes unsafe and could put the public in danger."
He added: "We want people to have a good time at car boot sales but sellers of fakes give markets a bad name and cause great harm to all."
Sgt Owen Radly said police already patrolled car boot sales and were always in possession of lists of stolen property.
He also said robust action would be taken against anyone found selling prohibited items such as knives.