Sussex Police outlines part of £50m savings plan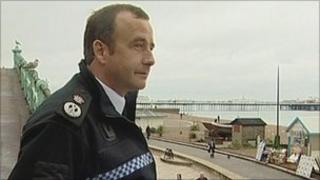 More Sussex Police officers and staff are to be offered the chance to cut their hours or take a career break as part of the force's £50m savings drive.
Chief Constable Martin Richards also outlined plans to merge two divisions and cut overtime costs by 50%.
He told Sussex Police Authority they would make savings based on the impact they would have on services.
Mr Richards sent an e-mail to staff earlier this month saying the force must save £50m by 2015.
'Difficult challenges'
At the time he said job losses were likely but public service was a priority. Mr Richards said he would not know the final level of savings required until after the government's spending review was completed.
On Thursday, Mr Richards told the authority: "The satisfaction and confidence of our communities remain priorities for us. We will maintain a district model of policing.
"We will make decisions on savings on the basis of the impact they will have on our service to the public and on our staff, alongside considering how much money we can save."
He added: "Sussex Police, like the rest of the public sector, is facing really difficult financial challenges in the future.
"It is not going to be easy but we are absolutely committed to putting the needs of the public first as we make tough choices."
The force outlined plans to merge the North and West Downs divisions, make radical changes to its support functions, such as IT and human resources, and move more services online.